Featured Vacation Rental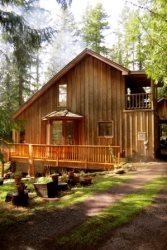 Beautiful River Home, Rustic Retreat


This beautiful home has breath taking views of the North Santiam River.

Vacation Home Property Management Services
Adventure Vacation Homes is dedicated to take the worry from our owners and provide them with peace of mind and revenue in return. As a vacation home management company, our main goal is to protect, maintain and preserve the integrity of our owner's homes. We are committed to developing and maintaining a successful relationship with our homeowners.
By partnering with the area's best in maintenance and housekeeping services, we can spend more time insuring that our management is at its best. All of our maintenance companies are licensed and insured. They range from all areas of service including Landscape Maintenance, HVAC, Home Security, Hot Tub Services and Housekeeping just to name a few. If there is work that needs to be done on your home or property, we have the best for you.
Vacation homes come in many shapes and sizes and require specific management styles to achieve the goals for the home set in place by the home Owner and Manager. A free consultation is the first step to discuss and evaluate the property and answer the many questions you may have.
· AVH Management Benefits
Unlike other management companies, the AVH manager you meet for the consultation will always be your manager from there on. Your AVH manager will see to it that you and your property are well taken care of and will be in direct contact via phone or email regarding any questions or concerns.
· Management Fees:
Management Fees are calculated percentages based on nightly rental rates and maintenance needs. Therefore, no money comes directly out of pocket. This makes us a performance company, meaning that we only make money when you do.
· Worry Free Maintenance:
Adventure Vacation Homes is proud to offer this Worry Free Maintenance Plan to vacation homeowners. AVH works closely with a maintenance specialist who ensures that all homes and properties are maintained at a high quality. Owners are updated monthly of services performed. This plan keeps your monthly expenses at a minimum. This plan will be discussed in depth with a Free consultation.
If you or someone you know is looking for a vacation home management company,
Please call us at (503) 897-6500 for more information or to set up a Free Consultation.